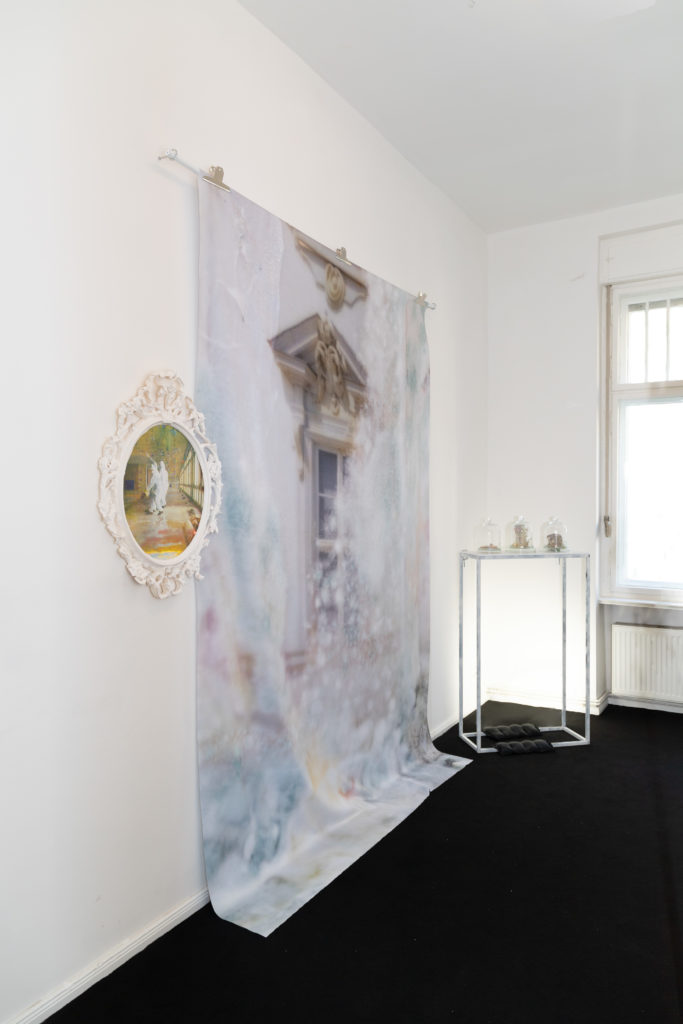 Julie Chovin's installation, FORUM, presents the imagery of a dystopian Baroque building under attack by mold, captured in a time capsule. The molds are not just static patterns, but living entities that evolve over time and interact with the grandeur of the castle's Baroque decorum. Despite the mold, the overall structure of the Humboldt Forum is still recognizable.
The invasive mold gives the cold, sterile architecture of the castle a more organic quality. This artwork is constantly evolving, presenting a decaying landscape that could be the promise of a new world. It encourages us to look beyond the decay and consider the possibility of new growth and change.
L'installation de Julie Chovin, FORUM, présente l'imagerie d'un bâtiment baroque dystopique attaqué par des moisissures, capturées dans une capsule temporelle. Les moisissures ne sont pas seulement des motifs statiques, mais des entités vivantes qui évoluent avec le temps et interagissent avec la grandeur du décorum baroque du château. Malgré la moisissure, la structure générale du Forum Humboldt est encore reconnaissable.
La moisissure envahissante donne à l'architecture froide et stérile du château une qualité plus organique. Cette oeuvre d'art évolue constamment, présentant un paysage en décomposition qui pourrait être la promesse d'un nouveau monde. Elle nous encourage à regarder au-delà de la décomposition et à envisager la possibilité d'une nouvelle croissance et d'un nouveau changement.
Forum. General view of the installation at dot Berlin for the future proof exhibition with Jeremy Knowles in April 2023.
Forum. Vue générale de l'installation à dot Berlin pour l'exposition future proof, avec Jeremy Knowles en avril 2023