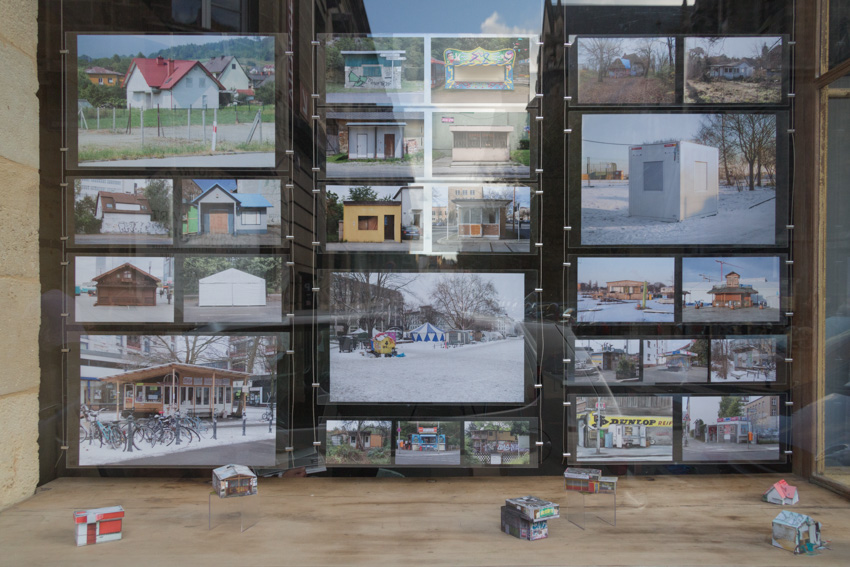 « L'Agence (The Agency) », installation, 2013-2015. 25 digital photographs, ink-jet print, plexiglas, cables, 1 drawing (colour pencil on paper) , 6 models on paper (colours pencils, inkjet and laser print). 2013-2015. Window from Rezdechaussée, Bordeaux.
The world is the futur of the man. Henri Lefebvre, in « Critic of Everyday Life » (1947)

Staging images of urban and « usual » European landscape, mostly from East Europa, « L'Agence » (the agency) is questioning in a poetically and in an off-center way we are taking a look on real estate property on Western countries.

Displacement
The installation is provoking subtle shifts in meaning: the place which receive, a former locksmith-metal worker's workshop, became since 2010 an art and project-room.
During a couple of weeks, the installation is transforming the window of the art place into a real estate agency store front.
It is bringing us beyond the borders, in Poland, Slovakia, France and Germany, between 2013 and 2015. Photographs of little structures, minimized and reduced scale building is bringing a multiplicity of fictions. Some of these structures are in bad condition or are using waste material. They are creating an aesthetic of precarity, in discrepancy with the usual pictures of real estate agency or architect studios. They are bringing famous, sometimes forgotten, individual or collective stories.

A story of here and somewhere
« L'agence » is fictional offering to buy, rent or invest in those small precarious structures in « distant » country. « distant » from where the installation took place, here in Bordeaux. It is working like a scenario where the visitor is welcome, if he wishes, to create is own narrative.
Link are developed between the different photographs, of which historical and geographical origin varies, showing kiosks from post-soviet countries, German community garden sheds, parties and events stand or asylum-seekers.
With a possibility of games and discrepancies, L'Agence is questioning a world which aims to standardized itself. It is breaking the rules, often idealized, of real estate property representation
---
« L'Agence », installation. 25 photographies numériques, impression jet d'encre, plexiglas, câbles, 1 dessin (crayon de couleur sur papier). 6 maquettes en papier(crayon de couleur, impression jet d'encre et laser). 2013-2015. Dans la vitrine de Rezdechaussée, Bordeaux.
Le monde est l'avenir de l'homme. Henri Lefebvre, Critique de la vie quotidienne (1947)

Mettant en scène des images de paysages urbains et «usuels» européens, en majorité d'Europe de l'Est, L'Agence interroge de façon décentrée et poétique le regard que nous portons sur la propriété immobilière dans les pays occidentaux.

Déplacements
L'installation provoque de subtils glissements de sens : le lieu qui l'accueille, anciennement atelier d'un serrurier-ferronnier, est devenu depuis 2010 un espace à vocation artistique. Son installation transforme, le temps de quelques semaines, en vitrine d'agence immobilière, la devanture d'un lieu d'art.
Elle nous entraîne aussi au delà des frontières, en Pologne, en Slovaquie, en Allemagne, entre 2013 et 2015. Des photographies de petites constructions, édifices à échelle réduite, minimisée, apportent une multiplicité de fictions. Certaines de ces constructions sont en mauvais état ou utilisent des matériaux de récupération, créant une esthétique du précaire, en décalage avec les images habituelles des agences immobilières ou de studio d'architecte. Elles sont porteuses d'histoires, connues, parfois oubliées, individuelles ou collectives.

Une histoire d'ici et d'ailleurs
L'Agence propose fictionnellement d'acheter, de louer, d'investir dans ces petites constructions précaires des pays «lointains». Elle fonctionne comme un décor où le visiteur est invité, s'il le souhaite, à créer sa propre narration.
Des liens se tissent entre les différentes photographies, dont les origines géographiques et historiques varient, montrant des kiosques dans des pays au passé soviétique, des cabanons de jardin communautaire allemands, des pavillons de fêtes événementielles ou un campement de demandeurs d'asiles.
Par une possibilité de jeu et de décalage, L'Agence questionne les stéréotypes dans un monde qui tend à s'uniformiser. Elle bouscule la représentation souvent idéalisée de la propriété immobilière.

L'Agence is a supported project from Bordeaux's city council on the frame of Funds for Creation's Aids and Innovation's Supports Funds.
L'Agence est un projet soutenu par la Mairie de Bordeaux dans le cadre du Fonds d'Aide à la Création et de Soutien à l'Innovation.