The Place to Be
Nightclubs in Berlin 2013-2020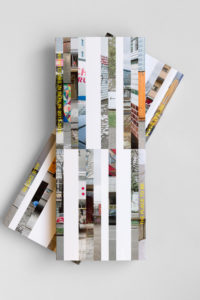 1. print, Vexer Verlag 2021
220 pages, 12,1 x 30 cm, Swiss sewn binding
Images and concept: Julie Chovin
Texts : Boris Grésillon and Séverine Marguin
Languages : german, englich, french
Design: Studio Daniel Rother
Editions: Vexer
ISBN: 978-3-907112-29-8
Between 2013-2020, artist Julie Chovin photographed around 220 nightclubs in Berlin. She based her work on a « club list » published on the official website of the city of Berlin. The title, « The Place to Be, » is the slogan chosen by the city for its marketing campaign. For her book, Chovin appropriated the questionable title of this campaign and used the list as a starting point for her photo project.
The Berliner-by-adoption sought out the locations of clubs scattered throughout the city – from 1a Lauschgift to Berghain and Puro Sky Lounge to Zur Klappe.
But her photographs don't document the interiors or residue of the night's hustle and bustle. Her focus is on the exterior facades and entrances that line the streets and are often surprisingly inconspicuous. Looking head-on at the facades and locked club doors, Chovin photographs her subjects in daylight. Through this focus, the clubs become part of an urban environment rather than staged as places of raucous ectasy.
It is an everyday view of the urban club landscape that Chovin captures, documenting places that, in some cases, no longer exist-or soon will because they have become victims of the gentrification process. When she finished the series in early 2020, some clubs had already closed; today there are likely to be even more.
The book, with 220 color photographs, is accompanied by two texts: Boris Grésillon has written a short time travel through Berlin's techno history, and Séverine Marguin describes Chovin's club archive from an urban sociological perspective.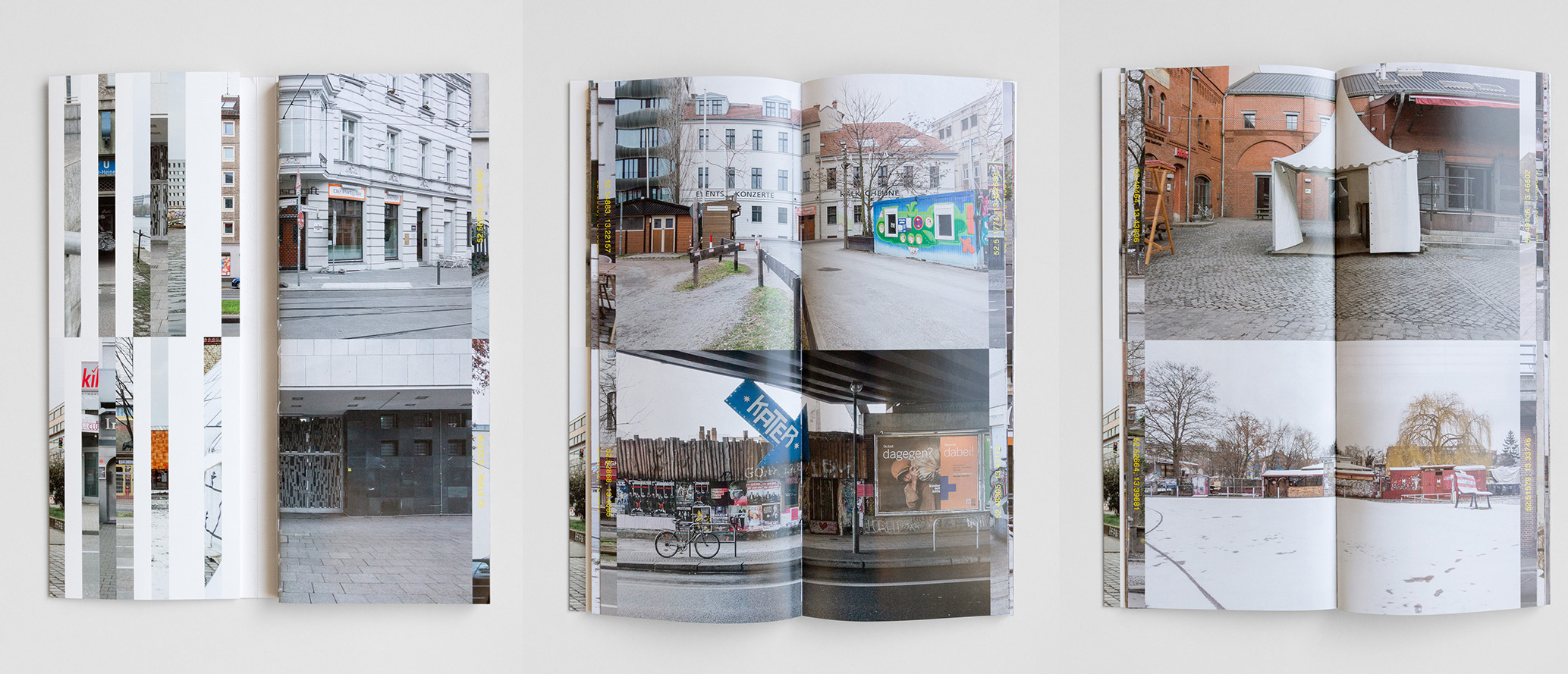 The Place to Be
Nightclubs in Berlin 2013-2020
1. Auflage, Vexer Verlag 2021
220 Seiten, 12,1 x 30 cm, Fadengeheftete Schweizer Broschur
Bilder und Konzept: Julie Chovin
Texten: Boris Grésillon und Séverine Marguin
Sprachen: Deutsch, Englisch, Französisch
Gestaltung: Studio Daniel Rother
Verlag: Vexer
ISBN : 978-3-907112-29-8
www.vexer.ch
mail@vexerberlin.de
+49 30 845 13 885
© 2021, Vexer Verlag St. Gallen / Berlin und Julie Chovin und die Autoren.
Zwischen 2013-2020 fotografierte die Künstlerin Julie Chovin rund 220 Nachtclubs in Berlin. Sie orientierte sich dabei an einer « Clubliste », die auf der offiziellen Website der Stadt Berlin veröffentlicht wurde. Der Titel, « The Place to Be », ist der Slogan, den die Stadt für ihre Marketingkampagne gewählt hat. Für ihr Buch hat sich Chovin den fragwürdigen Titel dieser Kampagne angeeignet und die Liste als Ausgangspunkt für ihr Fotoprojekt genommen.
Die Wahlberlinerin suchte die Standorte der Clubs auf, die über die ganze Stadt verteilt sind – von 1a Lauschgift über das Berghain und die Puro Sky Lounge bis Zur Klappe.
Doch ihre Fotografien dokumentieren nicht die Innenräume oder Rückstände des nächtlichen Treibens. Ihr Augenmerk liegt auf den Außenfassaden und Eingängen, die sich an den Straßen befinden und oft erstaunlich unscheinbar sind. Mit frontalem Blick auf die Fassaden und die verschlossenen Club-Türen gerichtet, fotografiert Chovin ihre Motive bei Tageslicht. Durch diesen Fokus werden die Clubs Teil einer urbanen Umgebung, statt als Orte der rauschhaften Ektase in Szene gesetzt zu werden.
Es ist eine alltägliche Sicht auf die urbane Club-Landschaft, die Chovin festhält, und mit der sie Orte dokumentiert, die es zum Teil schon nicht mehr gibt – oder bald nicht mehr geben wird, weil sie zu Opfern des Gentrifizierungsprozesses geworden sind. Als sie die Serie Anfang 2020 beendete, waren bereits einige Clubs geschlossen, heute dürften es noch mehr sein.
Das Buch mit 220 Farbabbildungen wird begleitet von zwei Texten: Boris Grésillon hat eine kurze Zeitreise durch die Berliner Techno-Geschichte geschrieben und Séverine Marguin beschreibt Chovins Club-Archiv aus stadtsoziologischer Perspektive.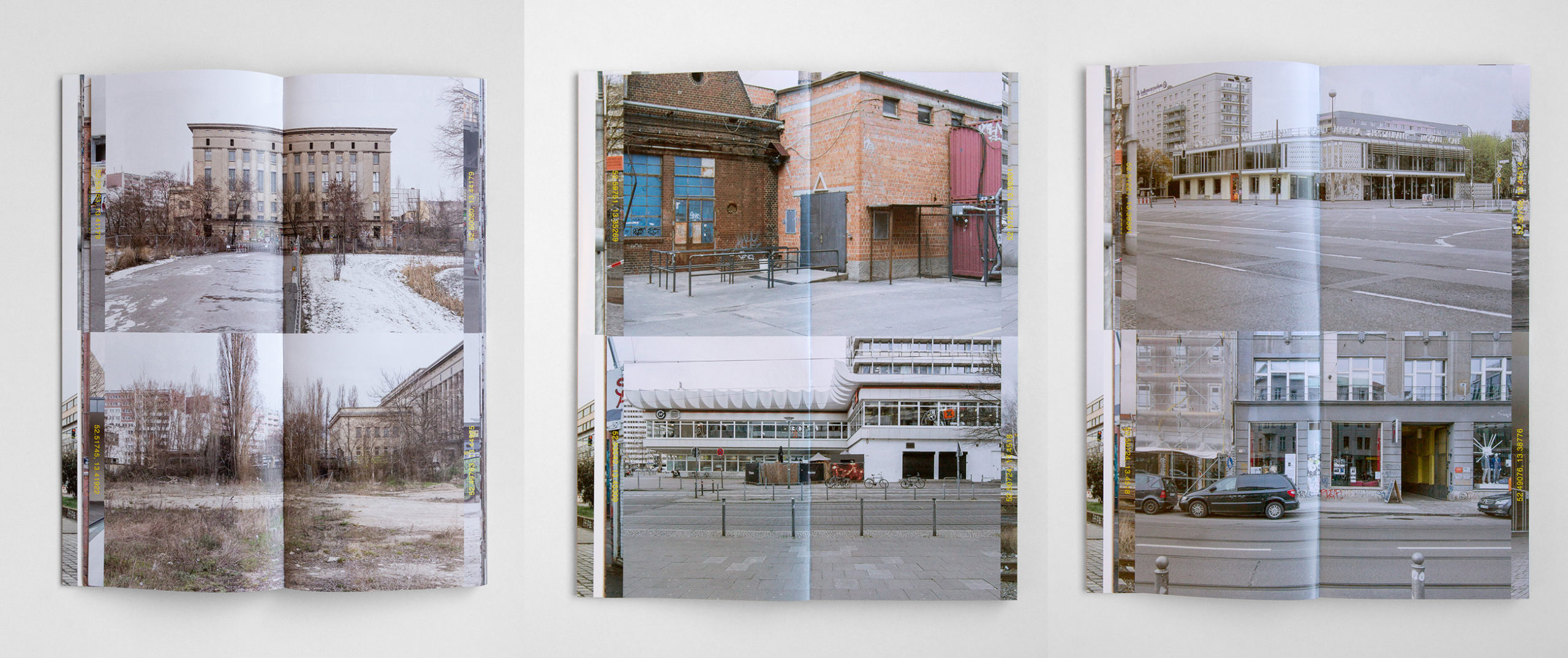 The Place to Be, Night Clubs in Berlin, 2013-2020
220 pages, 12,1 x 30 cm, reliure suisse cousue
Images et concept : Julie Chovin
Textes : Boris Grésillon et Séverine Marguin
Langues : allemand, anglais, français
Design : Studio Daniel Rother
Édition Vexer
ISBN : 978-3-907112-29-8
www.vexer.ch
mail@vexerberlin.de
+49 30 845 13 885
© 2021, Vexer Verlag St. Gallen / Berlin et Julie Chovin et les auteurs.

Entre 2013 et 2020, l'artiste Julie Chovin a photographié 220 boîtes de nuit à Berlin. Elle a suivi une « liste de clubs », publiée et actualisée sur le site Internet officiel de la ville. Le titre, The Place to Be, est le slogan choisi par la mairie de Berlin pour sa campagne marketing. Pour son livre, Julie Chovin s'est approprié le titre douteux de cette campagne et a utilisé cette liste comme point de départ de son projet photographique. 

La Berlinoise d'adoption a recherché les emplacements des clubs, qui sont répartis dans toute la ville : de 1a Lauschgift au Zur Klappe, en passant par le Berghain et le Puro Sky Lounge .

Mais ses photographies ne documentent pas les espaces intérieurs ou les traces de l'agitation nocturne. Son attention se porte sur les façades extérieures et les entrées, qui sont situées dans les rues et qui sont souvent étonnamment discrètes. Julie Chovin photographie son motif à la lumière du jour, avec un regard frontal sur les façades et les portes fermées des clubs. À travers son focus, les clubs deviennent part de l'environnement urbain au lieu d'être mis en scène comme des endroits d'extase enivrante.

C'est une vue quotidienne sur le paysage urbain des clubs que conserve Julie Chovin, et avec la documentation des lieux qui, pour une partie, n'existent déjà plus ou ne seront bientôt déjà plus. Au moment où l'artiste commence la série, certains clubs, victimes du processus de gentrification, ferment. Elle y met fin au début de l'année 2020. Rétrospectivement, il pourrait sembler que l'artiste a prévu le confinement avec ses photographies. Les images, vides d'êtres humains, soulignent l'inquiétude suivant laquelle le Berlin trépidant pourrait bientôt ne plus exister que dans les mémoires.

Le livre avec 220 images en couleurs est accompagné de deux textes : Boris Grésillon raconte un bref voyage temporel à travers l'histoire de la techno berlinoise ; et Séverine Marguin décrit l'archive des clubs de Julie Chovin avec une perspective de sociologie urbaine.

Entretien avec Étienne Diemert sur le site de TK-21

Texte critique d'Étienne Diemert, « The Place to be, a collection » sur la revue TK-21