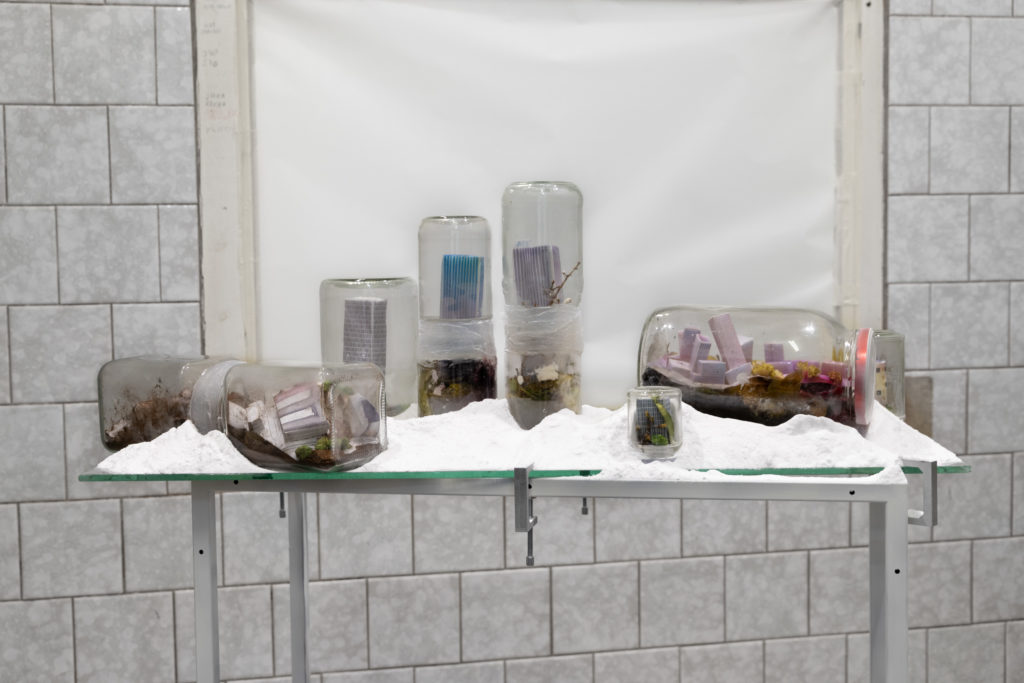 The installation is a dystopian landscape, inspired by the recent natural disasters caused by global warming and human activities.
Architectural paper models are settle on glass jars, with organic wastes.
The models are inspired by on going or new architectural projects, using the digital esthetic of the 3D flattering rendering of preview, not real.
The capsules are standing on a white mineral desert, an arid landscape. And it looks like there are no communications between the jar and the two world, inside and outside. Are the inhabitants trying to protect themselves from the outside world ?
The mini closed worlds, are separated from each other. And on the contrary of a terrarium, their organic contents are rotting, creating a new natural world, of mold, with new shapes and colors, evolving with the time, temperature and light situation, without control. But the mold is also affecting the paper models, growing on them.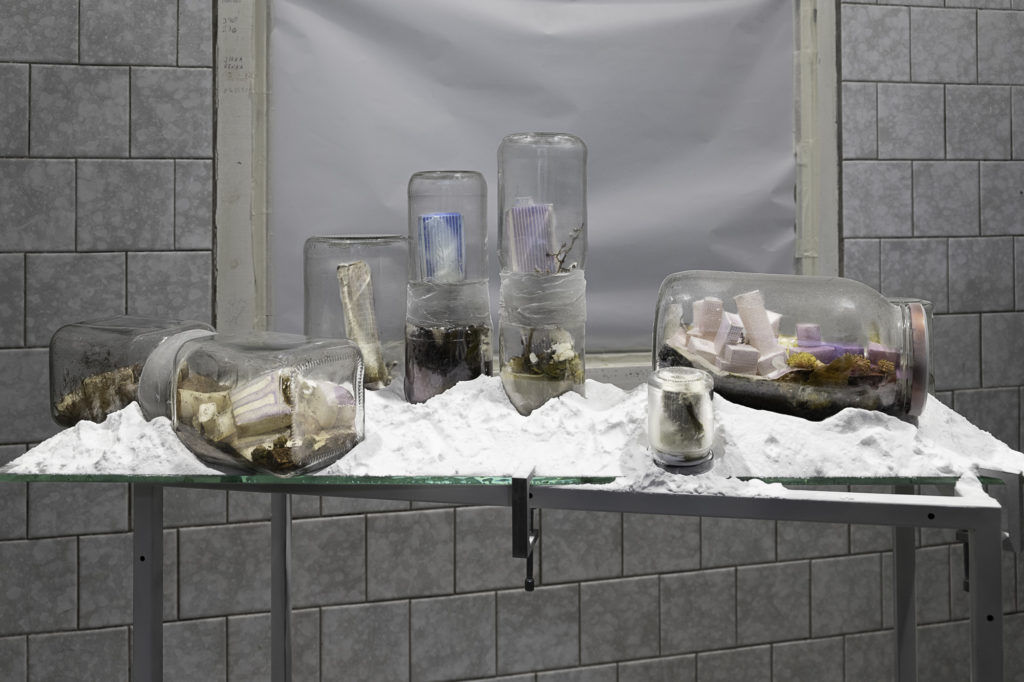 L'installation est un paysage dystopique, inspiré par les récentes catastrophes naturelles causées par le réchauffement climatique et les activités humaines. Des modèles architecturaux en papier sont installés sur des bocaux en verre, avec des déchets organiques. Les maquettes sont inspirées de projets architecturaux en cours ou nouveaux, utilisant l'esthétique numérique du rendu 3D flatteur d'un aperçu, et non d'un bâtiment réel. Les mini mondes fermés, sont séparés les uns des autres. Et au contraire d'un terrarium, leur contenu organique est en train de pourrir, créant de nouveaux
mondes naturels, de la moisissure, avec de nouvelles formes et couleurs, évoluent avec le temps, la température et la situation lumineuse, sans contrôle.
Mais la moisissure affecte aussi les modèles en papier, elle se développe sur eux. Les capsules sont posées sur un désert minéral blanc, un paysage aride.
Et il semble qu'il n'y ait aucune communication entre les pots et les deux mondes, intérieur et extérieur. Les habitants essaient-ils de se protéger du monde extérieur ?
Installation view in September 2022
Installation view in December 2022