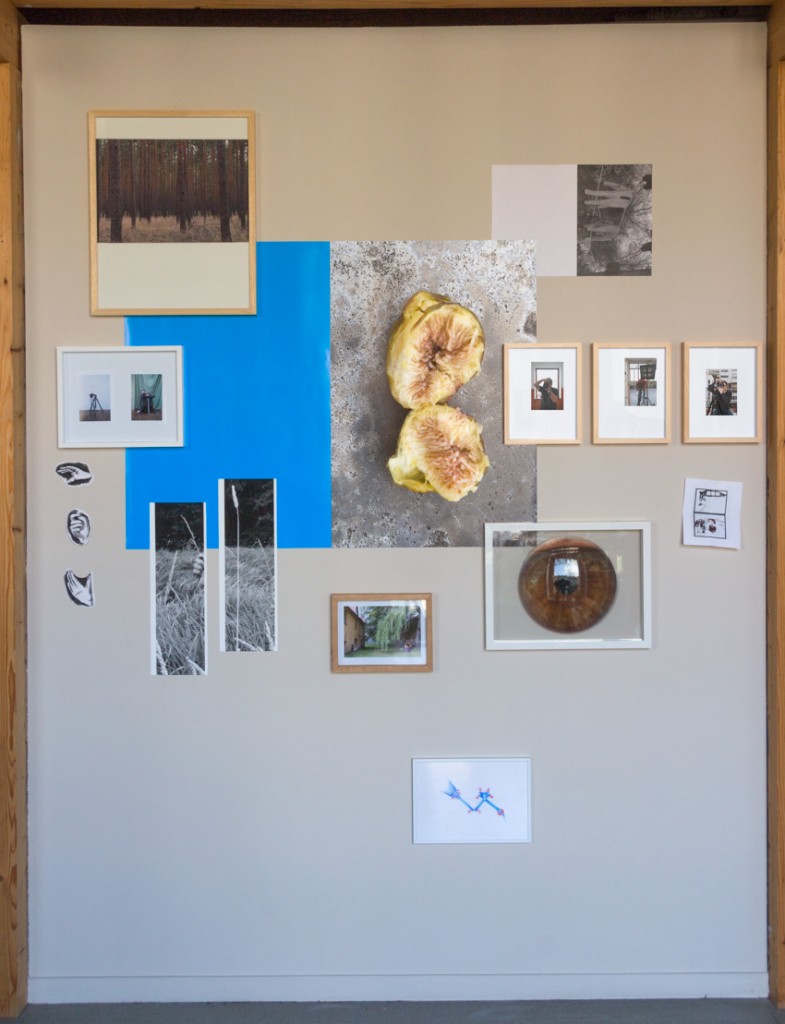 Resonances 2008-2015. Installation at La Belle Absente, Atelier Borel, Paris 2015.
10 inkjet- prints on paper, 2 laserprints on paper, 1 lambda print, 4 drawings (charcoal on paper – colour pencils on paper), frames.
Resonances 2008-2015. Installation à La Belle Absente, Atelier Borel, Paris 2015.
10 impressions jet d'encre sur papier, 2 impressions laser sur papier, 1 tirage lambda, 4 dessins (fusain sur papier – crayons de couleurs sur papier), cadres.
---
Resonance deals with the photographic gaze and the desire, of photography, to be photographed
and with a dismemberment of the gaze. It consists of several independent elements « nested » on top of each other. The series Les Voyeurs is composed of four portraits of photographers photographing the artist. The faces are hidden behind the machines, behind the eye of the lens.
The gaze gets lost between the trunks of the Brandenburg pine forest in untitled (forest).
Light path: a diagram of the path of light through an SLR camera and into the human eye.
Cristallin offers a view of an urban landscape, through a window, in the reflection of a human iris.
Résonance traite du regard photographique et du désir, de la photographie, d'être photographié
et d'un démembrement du regard. Elle se compose de plusieurs éléments indépendants «emboîtés» les uns sur les autres. Les différents éléments créent des possibilitées de narration.
La série Les Voyeurs est composée de 4 portraits de photographes en train de photographier l'artiste. Les visages sont cachés derrière les machines, derrière l'oeil de l'objectif.
Le regard se perd entre les troncs de la forêt de pins du Brandenburg dans sans titre (forest).
Light path : un schéma du trajet de la lumière à travers un appareil photo reflex pour finir dans
l'oeil humain.
Cristallin offre à voir un paysage urbain, à travers une fenêtre, dans la réflection d'un iris humain.